2014 Kia Forte Koup SX T-GDI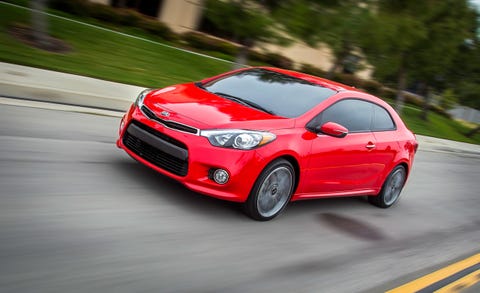 I liked the first generation of the Kia Forte Koup, a segment that was new to Kia at the time. With this generation I thoroughly thrust back to the glory days of the Honda Civic CRX and even the original Golf GTI. This is the kind of car that you can drive very sportingly around, that I would think the clever rice-rocket-racers would use to tune up, and something that looks better than the current competition in that segment, like the mondaine Honda Civic Si, the massive Ford Focus STi and the also massive current VW Golf GTI. The Kia is light and nimble, sticks to the road, and looks and feels the part.Americans probably will frown at the merely 4 cylinder engine, but this unit with the turbo provides plenty of power and torque to make for fun driving, even inviting to try and find your own and the cars limits. Most will reach their own before they find the cars' limits, but the exploration is fun, no matter what.
In the exterior design is just right. It is modern, dynamic and, in line with Kia's strong design philosophy does not rely on gimmicky surface treatment to make its marks. It is a very strong, solid looking design, with just the right proportions, the right level of detailing and everything in the right place. Not too much, not too little. It is the art of leaving out and getting it just right. A lot of companies can learn a lesson from Kia in this respect, well renowned companies.. Please.. Do learn…
The interior is very nicely done to enhance the sense of sportiness that the exterior and the whole package wants to convey. There are ample areas that feature a plastic that is made to look like carbon fiber panels in a convincing enough way, but all done with the proper restraint, so that it looks quality, rather than just tacky.
My only issue with the interior was that I, at close to 6'4″ felt that the front seat was too high. I tried all ways to lower it, but I could not do anything there. I know I am tall, but I normally don't have issues with this. It did seem that there was just too much sace under the seat, and, as we all know, a low driving positions goes a long way in enhancing the sporty feeling of driving even more. I think the seat is a carry over of another, less sporty car, which of course saves money, but it would have been money well spend to get a lower seat in this to make it 100% perfect.
[nggallery id=274]